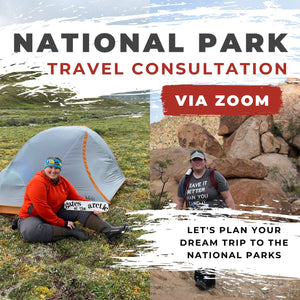 Are you planning a trip to the U.S. National Parks and have no idea where to start? Perhaps you are having trouble deciding which parks to visit, what to do in your chosen park, or you are worried you are not going to make the most of your visit.
Let me help you plan your trip. 
Do you just have some questions about your trip to the parks and don't necessarily need an itinerary designed for you? 
With my US National Park travel consultation service, you can pick my brain and ask me anything about your national park trip! I've planned multiple trips to every national park. 
What you receive:
1-hour Zoom consultation
A recording of our consultation
A follow-up email with links and information I mentioned in our call
Invite your travel partners – multiple people can join the Zoom call.
Save 5% on each additional session when you purchase multiple sessions.  Sessions never expire.  
Here are a few suggestions of things I can give you advice on:
Specific questions about your travel plans
Destinations in the national parks
Other stops for your road trip
Hidden gems in the parks
Information on timed entry and permits
Tips and tricks for making the most of your trip
What to pack for a trip to national parks 

Travel advice personalized to your circumstances